Ryugu cuisine packed with seasonal marine products.
Leisurely savor the dishes made with local ingredients for local consumption.
Delicious food produced locally, for local consumption.
This hotel is located in South Toba City, Osatsu, a bustling port blessed with Matoya Bay to the west, and the Pacific Ocean spreading from the east to the south. At Denyou, you can enjoy fresh seafood captured locally via fixed shore net such as striped beakfish, flounder, and red sea bream. We also serve seasonal seafood delights, including spiny lobster, abalone and oysters. The owner of the hotel (also a veteran fisherman for 10 years and chef for 25 years) selects the only best produce with a keen eye, so you can fully enjoy the bountiful fruits of the sea.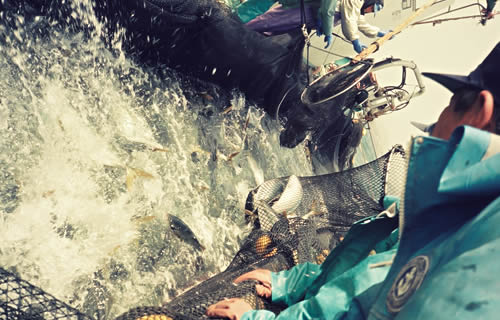 Home-grown vegetables and rice.
In order to enhance the freshness of our seafood as much as possible, it is best to have an accompaniment of fresh rice and vegetables. The Koshikari rice we use at Denyou is cultivated using pure spring water from the mountains. The rice is then harvested every year in autumn, and freshly cooked to be served to you.
We also harvest organic vegetables grown in a vegetable garden on the top of a hill, including daikons, spring onions, onions and pumpkins as well as lemons and dried plums. We do not only cook these produce just as they are; we also serve them as a flavorful accent such as garnish, pickles and seasonings. Our home-made plum wine is very popular among our guests. In order to be kind to the environment, all leftovers and organic waste are used as fertilizers for our fields.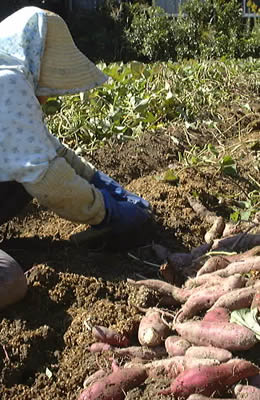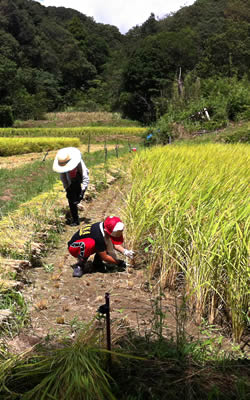 Considering what the best accompaniment to our finest cuisine would be, we here at Denyou serve our own selected alcohol. We hope you look forward to enjoying various forms of local sake, shochu and wine with your meal.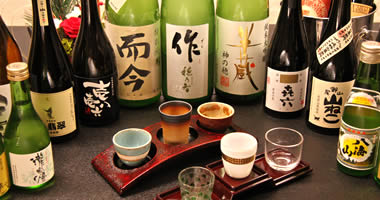 Ryugu Cuisine
We will prepare the bountiful catches from Osatsu's oceans to meet your tastes, using spiny lobster, abalone, sea bream, flounder, and other locally caught fishes, and seasonal seafood such as blowfish and oysters. Grilled with salt, stewed, prepared raw, fried or char-grilled, we want to make the best of the delicious flavor that only the freshest seafood holds, for you to enjoy.
There is also a wide variety of local dishes made with homegrown vegetables.
Our chef is proud to serve special Ryugu cuisine alongside a popular local alcohol, to dine to your heart's content.
※

The spiny lobster dishes and abalone dishes can also be ordered a la carte. (Reservation required)

※

If you do not like seafood, we will replace dishes with meat and other substitutions as much as possible.

※

Types of foods and dishes vary by season.

※

Food prices shown do not include service charges.
Ryugu Cuisine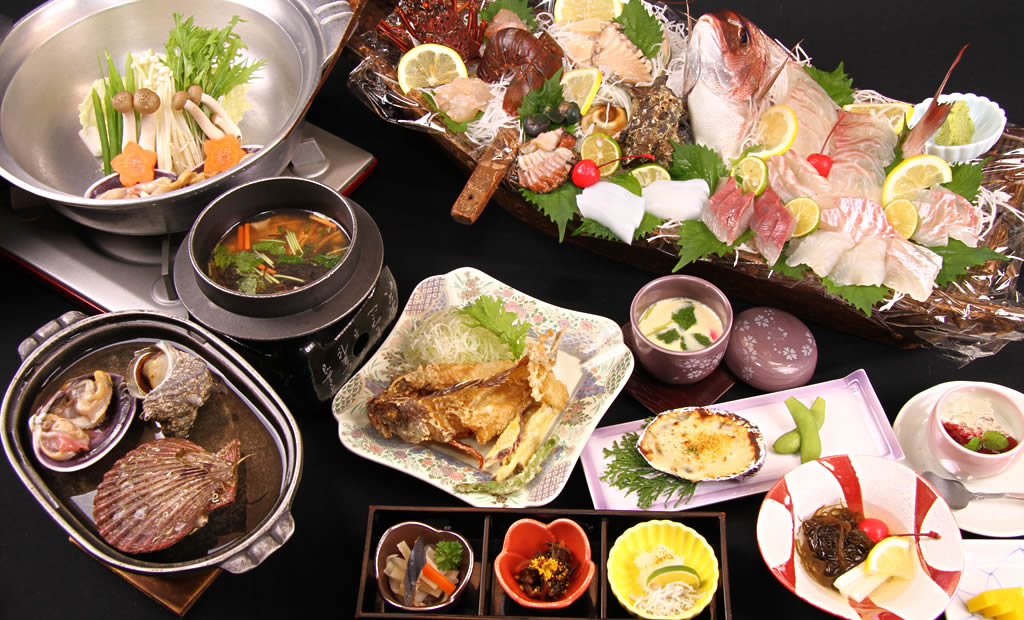 This has been the most popular course, since Denyou was first founded. You can enjoy a big, hearty Sashimi Boat plate, prepared with seasonal seafood such as sea bream, flounder, spiny lobster, Kuruma prawns and abalone.
We also recommend a meal-only plan for 10,100 yen (tax included) on weekdays.
Ryugu cuisine 14,300 yen~ (tax included)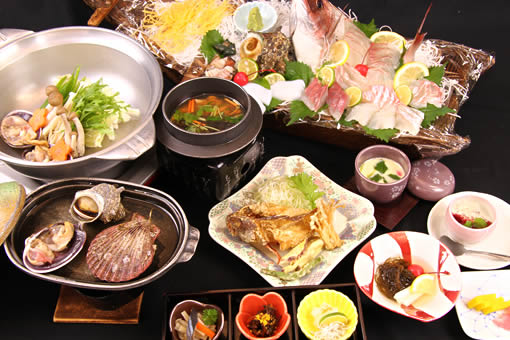 Weekdays only Seafood Sashimi Boat Course
Weekdays only Sashimi Boat and Kaiseki Course The sashimi boat is a platter of Osatsu specialties based on seafood such as sea bream and flounder. If you wish to upgrade to items such as abalone and spiny lobster, you can add items individually.
We also offer this as a meal-only plan for 8,600 yen (tax included) on weekdays!
Weekdays only Sashimi Boat Course 12,100 yen~ (tax included)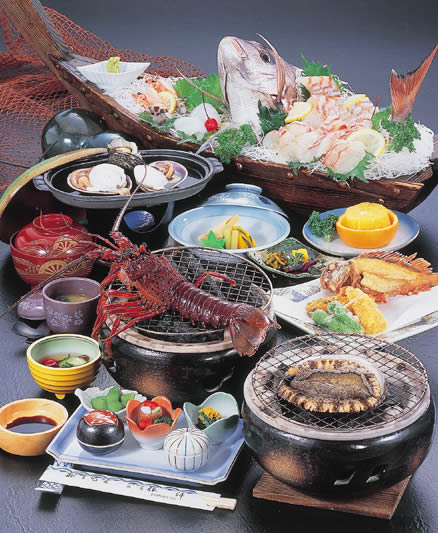 Gourmet Course
This is the most popular course at Denyo. This luxury course includes a sashimi boat with seafood items such as parrot fish, flounder, and red sea bream as well as one spiny lobster and one abalone. Savor the marine delicacies of Osatsu to your heart's content.
Comes with one spiny lobster and one abalone
Gourmet Course 19,800 yen~ (tax included)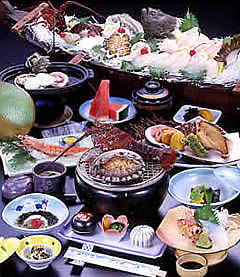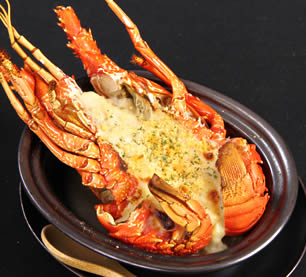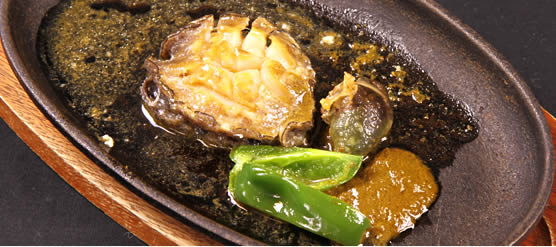 Gourmet DX Course
This is an upgrade of the popular gourmet course. The sashimi boat that comes with spiny lobster and abalone now has an entire lobster and abalone for each guest! You can choose how it is cooked and create a diverse feast depending on everyone's choices.
Gourmet DX Course 23,100 yen~ (tax included)
Lodging without a meal
6,600 yen per night
Large bath with an open-air component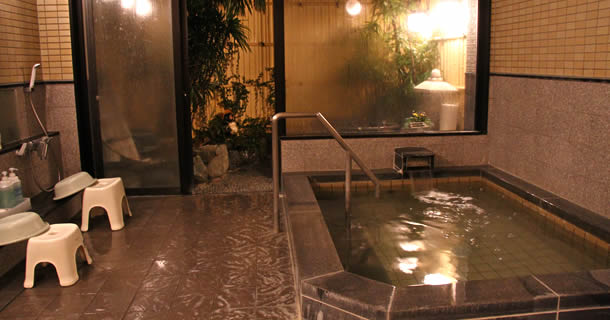 The open-air bath is surrounded by the rich sea and beautiful natural landscape.
The Shigaraki ceramic open-air bath gently envelops your body together with the hot water.
※

Guests coming only for the bath are also welcome! (500 yen for bath only)
  3 p.m. to 11 p.m. (reception closes at 10 p.m.)

※

Same prices for children.

※

Irregular holidays. Please call in advance.

※

Amenities: shampoo, conditioner, body soap, razor, comb, cosmetics, hair dryer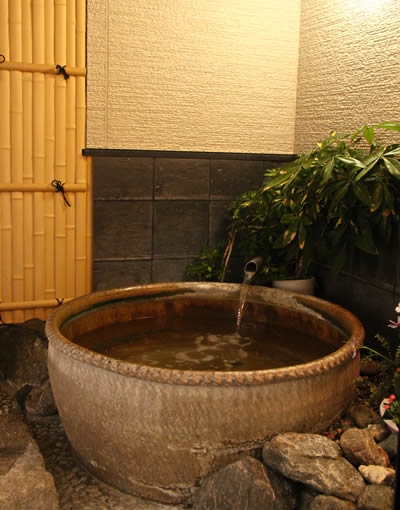 Osatsu area sightseeing
Woman Shell Diver Hut Experience

"Kamado" is a hut where active female shell divers take a break to recover their strength. Here you can listen to their stories while eating a meal or other refreshments.

Shinmei Shrine Ishigami-san

Ishigami-san is a small shrine found along the approach to Shinmei Shrine. It is said that it will grant any woman one wish. Ishigami-san's charms are handmade, with purple lettering and a fabric that is likened to the clothes of the female shell divers. The charm is said to hold the spirit of Emperor Jinmu's mother "Princess Tamayori". To make your dream come true, the drawstring of the charm is tied in a kanai-musubi knot.

Osatsu Woman Shell Diver Cultural Museum

Osatsu is the town of fishermen and women shell divers. Most women shell divers live in the Toba-Shima area. At this museum, you can feel the essence of the town through learning the history and lifestyles of Osatsu nurtured by these big-hearted women shell divers. After the museum visit, head out to tour the town and talk with the locals. You can feel the energy of the town firsthand.
Getting to Osatsu and Denyo
Establishment Information
● Capacity / 50 people ● Rooms / 9 rooms ● Banquet room available ● Parking lot available ● Meeting room available
● Public bath with open-air bath (by gender) ● Family bath (private only)
● Motorbike-only parking available (15 motorbikes maximum)

Osatsu255-2 Osatsu, Toba city, Mie Prefecture
Postal code: 517-0032
TEL/0599-33-6166 FAX/0599-33-7257
http://www.denyou.gr.jp/